Megan's Story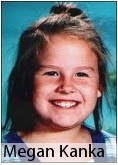 On July 29, 1994, seven year old Megan Kanka was raped and murdered by Jesse Timmendequas, a neighbor in Hamilton Township, New Jersey. Timmendequas was a registered sex offender when he moved across the street from Megan and her family. The Kanka family was unaware their neighbor was a threat to their safety.
Timmendequas lured Megan into his house by offering to show her a puppy and subsequently raped her and strangled her to death. He moved her body to his truck, placing the body in a wooden toy chest and dumping it in nearby Mercer County Park. The next day, he confessed to investigators and led police to the site.
The court sentenced Timmendequas to death, and the sentence was upheld by the New Jersey Supreme Court on appeal.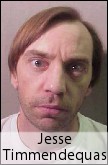 Timmendequas remained on New Jersey's Death Row until December 17, 2007, when the New Jersey Legislature abolished the state's death penalty. This ban resulted in Timmendequas's sentence being commuted to life in prison without the possibility of parole.
In the wake of the tragedy, the Kankas sought to have local communities warned about sex offenders in the area. All states now have a form of Megan's Law.
Private Citizens have had access to records on sex offenders registered with local law enforcement under California's Megan's Law since 2004. Previously, the information was available only by personally visiting police stations and sheriff offices. The law was given final passage by the Legislature on August 24, 2004 and signed by the Governor on September 24, 2004.
California has required sex offenders to register with their local law enforcement agencies since 1947. California's Megan's Law provides the public with certain information on the whereabouts of sex offenders so that members of our local communities may protect themselves and their children. The law is not intended to punish the registrant and specifically prohibits using the information to harass or commit any crime against a registrant (Pen. Code § 290.46.).

Is a Registered Sex Offender Living Near Your Family?
---
Find Out Now
By clicking above, I accept the Terms of Use
What Parents Say About Kids Live Safe
"EVERYONE SHOULD HAVE THIS SITE...."
- Anthony E. Rone, Hinesville, GA
"Please make sure your children are safe. Keep up with the site and tools."
- Cheryl A N Valois Auburn, MA
"I am very thankful for this site.....having three children this is a very big peace of mind."
- Ashley May Bonang